Financial Policy & Pet Insurance
---
Payment due at time of services.
We accept cash, check, credit card and CareCredit.
We accept these forms of payment
Please endorse checks to "Woodlands Vet Clinic". A valid photo ID is required. We accept personal checks only. We do not hold checks, so please do not post-date your check. In the event that a check is returned, you will be assessed a Returned-Check Fee of $30. All non-payable checks will be prosecuted by the District Attorney's Office.
We accept all major credit cards including Visa, MasterCard, and Discover. The cardholder must be present to process any Credit Card Payments. We do not accept Credit Cards by phone.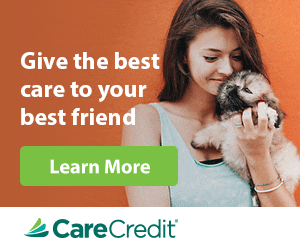 ---
Our clinic accepts all pet insurance.
Although we try not to promote one insurance provider over another, if you're in need of pet insurance we suggest Trupanion Pet Insurance, which offers affordable, high-quality insurance for your dog or cat.
Click the image below to visit their website.
*Information on this page is subject to change at any time without notification by Woodlands Vet Clinic. Be sure to clarify current policies with your receptionist.